Thank you for visiting our Lanelay Hall Hotel & Spa Privacy Policy which relates to data collected via our website.
How do we collect information from you?:
When someone visits lanelayhall.co.uk we use a third-party service, Google Analytics, to collect standard internet log information and details of visitor behaviour patterns. We do this to find out things such as the number of visitors to the various parts of the site. This information is only processed in a way which does not identify anyone. We do not make, and do not allow Google to make, any attempt to find out the identities of those visiting our website. If we do want to collect personally identifiable information through our website, we will be up front about this. We will make it clear when we collect personal information and will explain what we intend to do with it. We obtain information about you when you use our website, when you contact us about products and services, to make an enquiry via our 'Enquiry' form. 
Thank you for visiting Lanelay Hall Hotel & Spa Privacy Policy which relates to data collected via our website. This Policy explains when and why we collect personal information about people who visit our website, how we use it, the conditions under which we may disclose it to others and how we keep it secure. This Policy may be subject to updates so please check this page to ensure that you're happy with any changes. 
By using our website, you're agreeing to be bound by this Policy. Individuals wishing to inquire about our policies, to access or correct their personal data, or withdraw consent should contact Lanelay Hall Hotel & Spa by writing to us at; Lanelay Hall Hotel & Spa, Lanelay Lane, Talbot Green, Pontyclun, Rhondda Cynon Taff, CF72 9LA, United Kingdom +44 (0)1443 558309 or by emailing us [email protected] What type of information is collected from you?
If you make an enquiry online personal data may be stored both online and offline for the purposes of contacting, you regarding Lanelay Hall Hotel & Spa products and services. The personal information we collect might include your name, address, email address, IP address. 
How is your information used? We will not contact you for marketing purposes by email, phone or text message unless you have given your prior consent. We will not contact you for marketing purposes by post if you have indicated that you do not wish to be contacted. You can change your marketing preferences at any time by contacting us by calling +44 (0)1443 558309 or by emailing us at [email protected] Direct Marketing: We will send Direct marketing via the postal service and by email. We will also make sure our direct marketing is relevant for you and where possible tailored to your interests. If you would like to opt out of this, please either unsubscribe at the bottom of any emails sent or email us on [email protected]. Online Payments: In order for us to process an order, payment details are taken and contact information collected, such as name, address, telephone number, and email address. Please note that even if you opt-out of receiving marketing communications from us, we may need to send you service-related communications, such as confirmations of any future reservations you make. 

Personalisation: Where the processing enables us to enhance, modify, personalise or otherwise improve our services/communications for the benefit of our guests and visitors. Downloading a Brochure: If you complete any of our brochure download request forms on our website, your information will be sent to the relevant department to process your request. Personal information collected will be used to assist with your enquiry and to contact you for further assistance. 
Gift Vouchers: We use a trusted third-party provider to manage the payment and fulfilment processes of purchasing one of our gift vouchers. To fulfil your order personal information including your name, email address and payment details. If you opt to have your voucher delivered, you will be asked for your address or the recipients address. If you provide any personal information of the recipient, they will be notified when receiving their voucher of how they will use their data and their right to be forgotten. We can access your contact information and order history; however, we cannot access your payment information. If you give us permission by checking the tick box to receive more information from us whilst checking out any vouchers, you will be automatically added to our mailing list. This can be changed at any time. 
CCTV: CCTV is in operation throughout the hotel for the purposes of, including but not limited to: Security of property, employees and guests; Health & Safety, and; Public Liability. You can opt in to receive marketing communications: We may use your information to: • send you marketing communications via email, post or telephone; • seek your views or comments on the products and services we provide; • notify you of changes to our products and services; • send you communications which you have requested and that may be of interest to you; • activities, promotions of Lanelay Hall Hotel & Spa to support our marketing activities; • invite you to events as part of our marketing activities; • process a job application or enquiry. We review our retention periods for personal information on a regular basis. We will hold your personal information on our systems for as long as is necessary for the relevant activity, or as long as is set out in any relevant contract you hold with us. 
Who has access to your information?: Lanelay Hall Hotel & Spa may have access to personal information passed via the website. We will not, share, sell or rent your information to third parties. Changes to this privacy notice: We keep our privacy notice under regular review. This privacy notice was last updated on 1 July 2023. How you can access and update your information: The accuracy of your information is important to us. If you would like to know what information we hold on you, please contact us in writing or by email: Lanelay Hall Hotel & Spa, Lanelay Lane, Talbot Green, Pontyclun, Rhondda Cynon Taff, CF72 9LA or email [email protected]
You have the right to ask for a copy of the information Lanelay Hall Hotel & Spa has about you at anytime. Security precautions in place to protect the loss, misuse or alteration of your information. When you give us personal information, we take steps to ensure that it's treated securely.
Nonsensitive details (your email address etc.) are transmitted normally over the Internet, and this can never be guaranteed to be 100% secure. As a result, while we strive to protect your personal information, we can't guarantee the security of any information you transmit to us, and you do so at your own risk. Once we receive your information, we make our best effort to ensure its security on our IT systems. Use of 'Cookies': Like many other websites, the Lanelay Hall Hotel & Spa website uses cookies. 'Cookies' are small pieces of information placed on your computer and stored on your hard drive to allow that website to recognise you when you visit again. They collect statistical data about your browsing actions and patterns and do not identify you as an individual. It is possible to switch off cookies by setting your browser preferences. Turning cookies off may result in a loss of functionality when using some websites. 
Links to other websites: Our website may contain links to other websites run by other organisations, for example when we appear in the media. This privacy policy applies only to our website' so we encourage you to read the privacy statements on the other websites you visit. We cannot be responsible for the privacy policies and practices of other sites even if you access them using links from our website. In addition, if you linked to our website from a third-party site, we cannot be responsible for the privacy policies and practices of the owners and operators of that third-party site and recommend that you check the policy of that third-party site. 
Review of this Policy: We keep this Policy under regular review.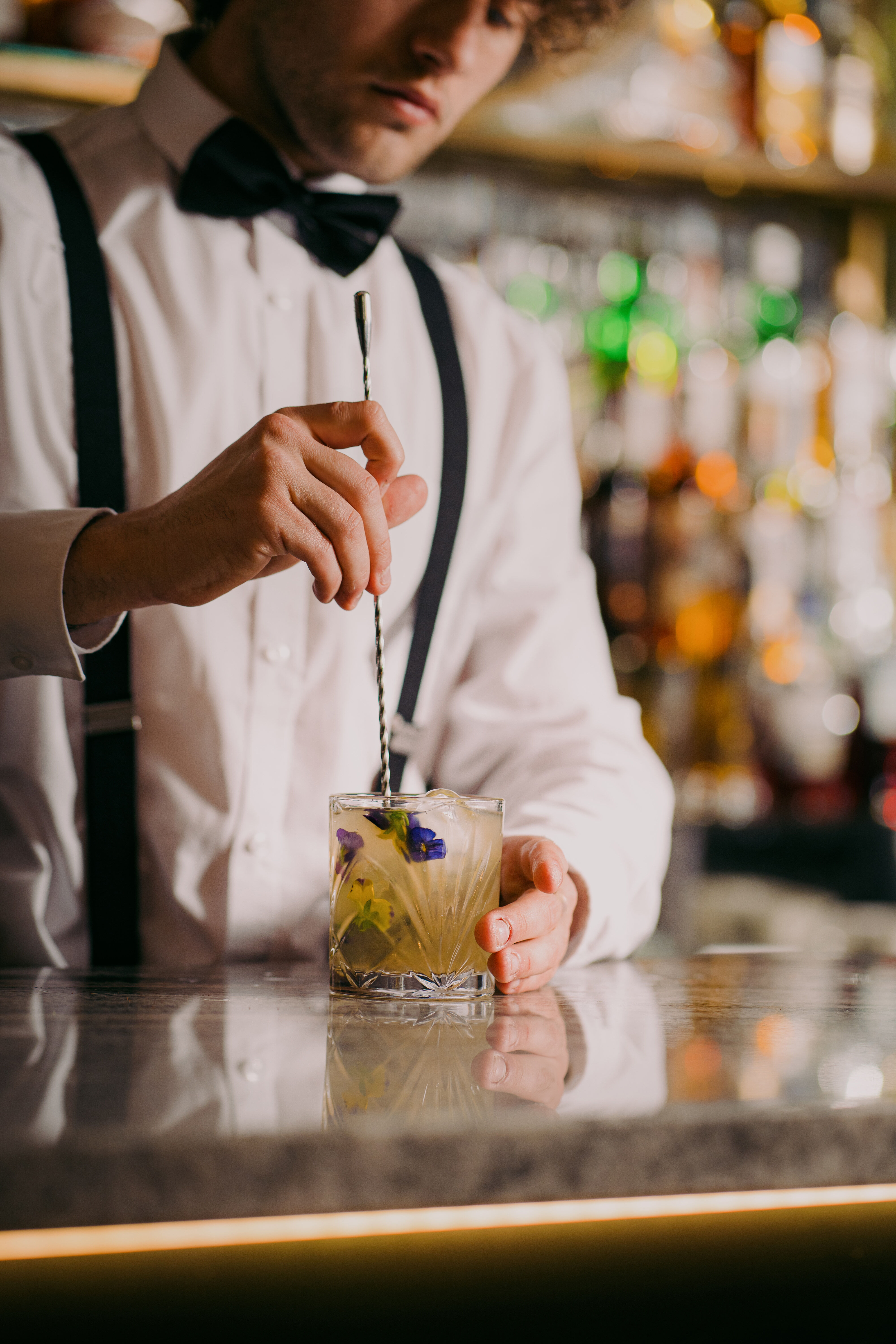 Relaxed Bar & Dining
Comfortable and elegant, The Terry Edwards Bar & Lounge is the perfect place to unwind in luxe surroundings, whether you're dining, catching up with friends or enjoying our cocktail menu.
View our bar & lounge